How to Survive a Scat Solo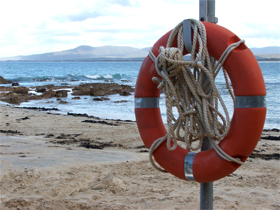 One of the skills a songtaneous singer may want to master is how improvise a solo during a song. This could be scat singing or lyric invention or storytelling, etc. With practice this can be exciting and great fun and allow you to unlock original and memorable versions of the songs you sing.
When first starting out, however, soloing can feel a lot like being shipwrecked. Suddenly, you're thrust into the water. It is cold and disorienting. You swallow a mouthful of water. Your mind goes blank.
You cast about for something to save you, to help you stay afloat. No, no, no! That piece is too small! Ouch! That piece is sharp. Many times when someone is struggling to create a solo, I watch her pick up and discard workable ideas in panic.
Here is my advice.
Try not to panic. Take a moment to catch your breath. Float on the water, get your hair out of your eyes and evaluate your situation (metaphorically speaking). In other words, listen to the music happening around you. Is it calm? Is it rocky? Is it gray or blue?
Next (for beginners and weaker swimmers), use the first functional idea you find. OK, you don't love it, maybe it's not brilliant, but … does it work? If it's workable, you can build on it. It is like finding a board floating nearby and climbing on.
Survey the landscape. Are there things nearby you can use to expand your raft? Try to find ideas that fit well (or easily) with your first idea. Maybe it is repetition, or notes in the same scale or words in the family of your first idea.
Build your raft. Be conscious that you are constructing a narrative, the beginning of a story. (Note: this "story" doesn't need to have words or to make sense to anyone but you. *smile*)
Pick a destination. Now that you're on your raft, decide where you want to go. Fiji? Back to the mainland? Remember, a good solo has a beginning, middle and end but you get to decide what each of those means. *smile*